Comparing with Haruka's arc, Kaoru's arc felt different. It was laid back, it was casual, it was probably meant to happen. It wasn't as if Junichi went out of his way to get Kaoru (until later), but that's the idea. This episode was touching, to say the least. It was as awkward as Haruka's confession at the end of her arc.
A Quick Summary
A few days later, after searching Kaoru despairingly, Junichi's friend and also Keiko make a plan to get hum to see Kaoru in the nurse's office while she is in her work uniform. Of course, walking into the office expecting to get a bandage and walkout, Junichi was stunned. Of course, Kaoru didn't make anything of it. Later in the day, they meet on the roof and Junichi asks if she has plans for Christmas. She says, Yes! and he is immediately depressed. But of course, Kaoru is joking, she has made plans for their date, together. Miya pokes fun at him later in the day for not doing anything with anyone on Christmas.
During the date, Junichi reminisces back to two years ago because Kaoru is a bit late. She takes him to the Port Tower. They walk on the port boardwalk for a while talking about the past and how they used to do this when they were younger and in middle school. Finally, it's getting close to sunset and she takes Junichi up. He announces that he is afraid of heights, but to help him get over it, she takes his hands and holds them over a glass floor. It starts to snow and they confess to each other.
Finally, because Kaoru missed her bus and Junichi is too cheap to get her a taxi, he offers her to stay over at his house. She agrees and they get there. Junichi instructs Kaoru to take her shoes with her into his room when she gets there. She had never been in his room before and was exploring. She notices the Star Room that Junichi built for his alone time. Miya suddenly knocks on the door asking why he's home – and also admitting she knows what's going on – but really doesn't. Kaoru ducked into the Star Room to hide, but eventually she gets sleepy and wants to sleep together with Junichi on his bed. So they do, and it's awkward for him. She surprises him while pretending to be asleep wrestling with him until she's on top. She starts to kiss him but falls asleep sitting on top of him.
The next school day, we see the two interacting closely. And that's the end!
No Lighthouse Necessary – Land Ho

!
Nothing from early on, there was just nothing going on and worth while.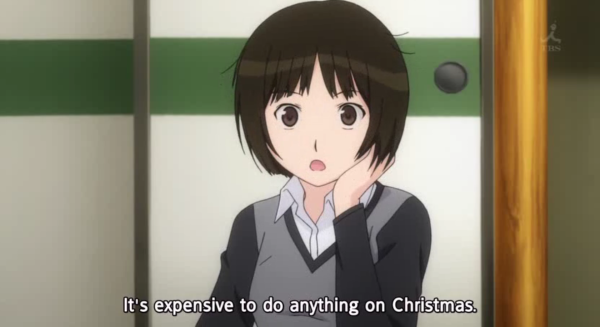 So Miya is up to her tricks again. She says this like she wants her Nii-nii to stay home with her and attend her party. Or perhaps she is in fact having a party because there is no way to afford anything else. It isn't realistic to say though that everything is double in price; it's just another day.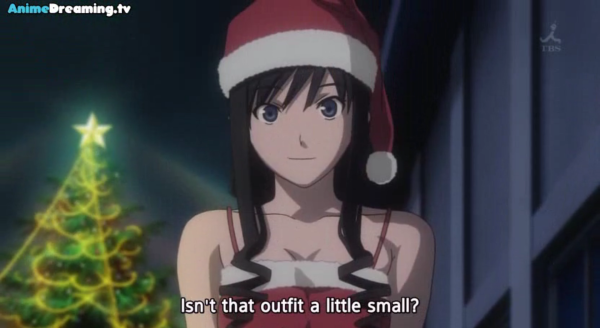 Haruka is looking excellent in her Santa outfit. Hibiki though is the voice of reason for Haruka. Otherwise, she would have gone with the Santa bikini.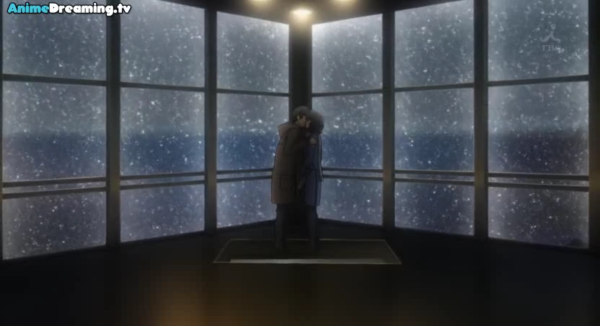 This was an amazing scene. The lead up, the low intensity confessions of Junichi and Kaoru were aligned perfectly for a kiss on the peak of the Port Tower with snow framing it. The idea of, "Looking at snow fall from above. That's pretty different, don't you think?" That's original and clever. She couldn't have planned it better. I'll remember that scene forever, certainly.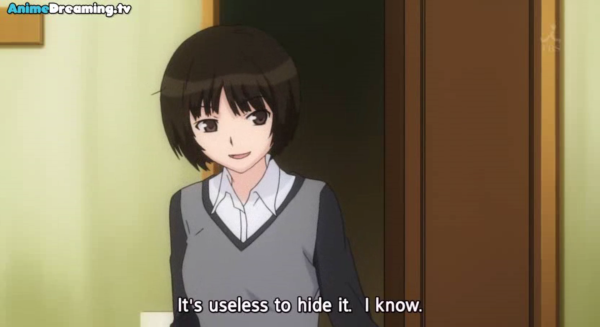 Miya came into Junichi's room abruptly. I don't know what she was talking about, maybe having Christmas with his friend from class as a cover. I don't know. Anyway, she's clever. She thought she heard talking from Junichi's room, so she said she knew what was going on and he shouldn't bother to hide it. Well, she didn't really know. I do wonder though how she would've reacted to it though if she had seen Kaoru sitting there on the bed with him.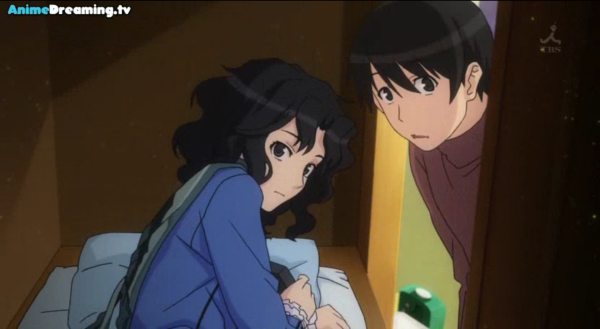 Junichi's star room, his home away from home, his place to be alone created after his first stand up two years ago still survives. Kaoru obviously has caused him to stop using it because he's felt good about himself. It's better than when he was starting with Haruka, because after the initial rejection, he crying.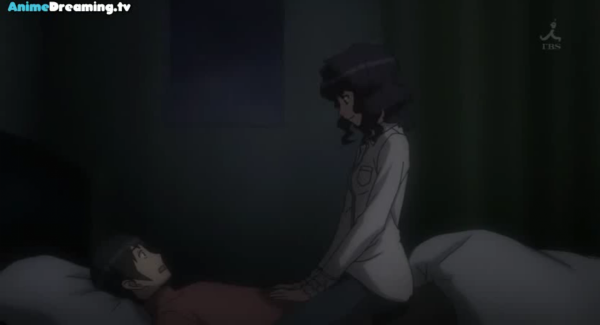 I didn't have a good one for this picture. It was interesting how she faked her sleeping so that she could wrestle him around a bit. She managed to get on top, well, she's the fighter after all. But she didn't make much of a move. That's good I think, otherwise it would've damaged the legitimacy of what they were feeling if they took it too far too fast.
And you know? It ended there. The was no ten year flash forward. I wanted one. In Haruka's arc, it made sense to show that they were still kinky after ten years. It's too bad, but it was different.
Finally
That's the end of an excellent arc! The next arc is the red-head, Sae. I like how she looks, innocent, laid back, shy and so on. The problem is her voice. I cannot stand it! I seriously can't! But we'll see how it turns out.
Committed.