Ai Nanasaki. She's mysterious to me. She looks cold and broken. Her eyes in the OP aren't dead, but they aren't full of energy. They're full of mystery. Or at least, that's how I'm seeing Ai so far. The first scene though does something strange with Ai's character that has been subtly built up so far (the mystery character), it displays her in snow as a bright and cute girl.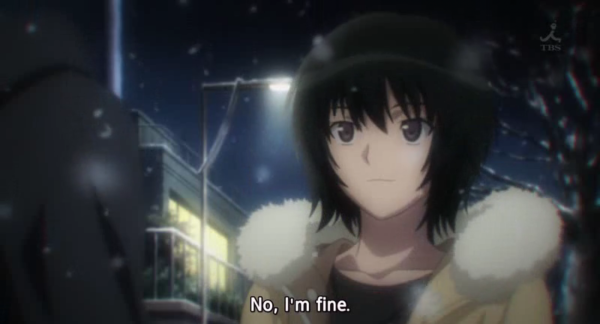 No Summary
On my no summary scheme, here are some excellent summaries from elsewhere. THAT's summary isn't much of a summary. Random Curiosity's summary is detailed though. Update: About ten minutes after I wrote this, Slugs published their summary. Lovely.
Bonus Summary: Junichi meets Ai one day in the park when he wants to use the bathroom. The he meets her the next day while in the lunch line unable to choose his dish. Ai's about to take a practice swim when she hears the alleged black cat nyaaing outside. She finds Junichi snooping around the bottom of the steps – she accuses him of planning of being perverted again like at the park. She proceeds to tease him by asking if he wants to see under her skirt. She lifts it up revealing nothing more than her swimsuit – although Junichi nearly has a heart attack. The next day, Ai laughs at Junichi when she sees Miya's red pen on his forehead. Since she's short handed at the moment, she brings him to the grocery store to carry her household goods. She gives him some tickets and they win 500 yen. They spend it on some pancakes. They talk about some stuff and then the episode concludes with Ai smiling on the beach.
aI Don't Know
Let's get this out of the way. Miya's up to her clever remarks. The allusion to a black cat of course brings back major memories from not too long ago.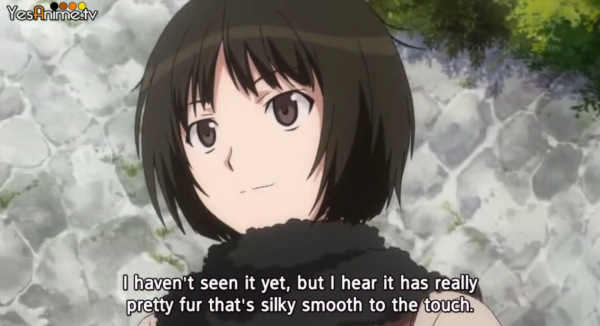 I'm sure Miya is silky smooth. Absolutely sure. Now, on with the show.
Essentially, I'm cutting out a bunch of relatively boring stuff. The first arc brought us the fetish late, and the second was almost instant. The third toned it down by delivering the fetish through third party fish. In the first half of the first episode of Ai's arc, we find the initial hints of a fetish: swimsuits under school uniforms.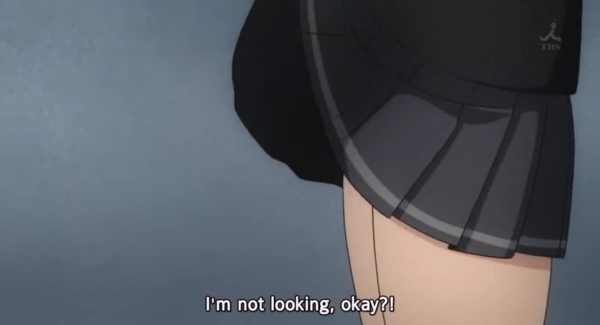 Junichi thinks it's bad to look – that's Junichi4 for you. Ai is really direct with perversion though. Haruka and Kaoru took their innuedno to new heights in the end game. Ai's starting early.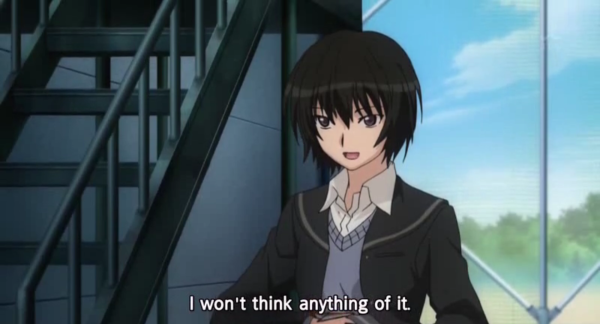 Ai comments that it's too bad it was just a swimsuit. And then she goes on to say, while Junichi is trying to hide his shame in thinking it was too bad that she won't allow any groping. That's almost admitting it's okay to look!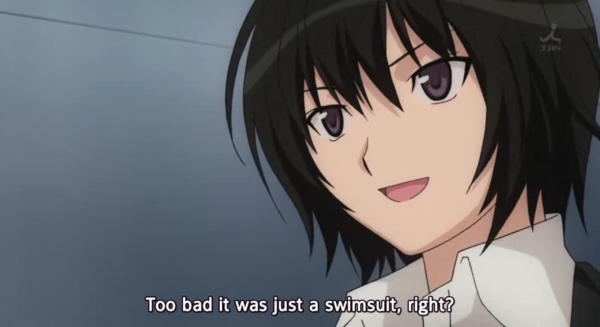 Haruka of course, being close to Hibiki, shows up. I don't really like Harkua anymore. Maybe I've been away too long?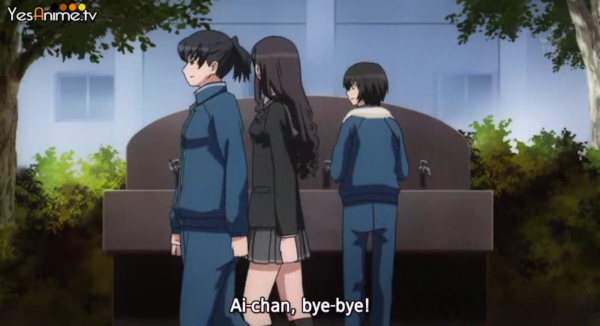 The beach scene was nice. Here's what we learned: Ai is in the swim club, enter a tournament soon, does after school community work, does all the house work for her working parents and is probably decent in school. Did I mention she was in the same class as Miya, again?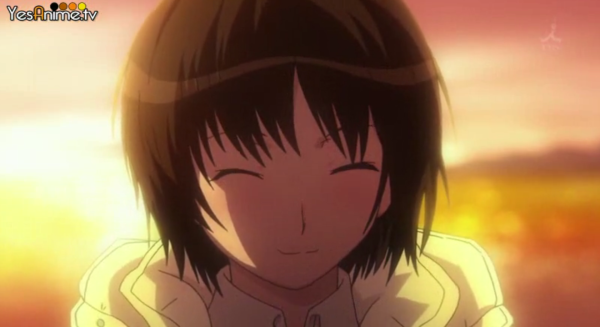 Finally
Ai is mysterious. Her eyes are alluring but all scary at the same time. I don't know what spin Junichi will be putting in on this arc, where the first was roleplaying, the second was being there and the there was oh-sensi-you're-the-best.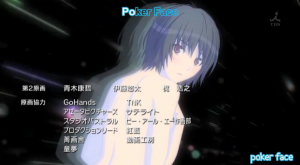 The ED of this arc is excellent too. It's very fitting. It showcases her swimming club obsession first and shows off her mysterious grin, her eyes darkened by her hair and a shocked scene and and odd space scene. Her mystery is timeless?
I look forward to more. (I've said she's a mystery too many times now.)
Committed.